Multi-constellation & Multi-frequency
From L1 to
multi-frequency
Software-Defined
Radio & Cloud-based Computation
Up to 16 Mhz sampling rate
Compatible with NB-IoT, LoRa, Sigfox, GSM, 3G/4G/5G, Satellite, etc.
Tailored GNSS positioning solution for projects
Internet of Things has brought countless opportunities to improve operations and reduce costs, and particularly in the location and tracking of assets.
Yet, GNSS-based receivers are not often integrated by major logistic actors due to their energy consumption, size, and TCO. Syntony undoes that wrong by offering the first real GNSS cloud-based location service, using Syntony's GALAXIE secured server to deliver the locations by calculating our patented algorithms.
SoftSpot™ IoT is totally upgradeable without having to change the device, since all the computations are made on the server, where algorithms can be improved with immediate repercussions and no modifications to the hardware.
Low energy GPS/GNSS receiver
oftSpot™ for IoT is a GNSS cloud-based solution deporting energy consumption to a secure server. Depending on the use case, SoftSpot™ IoT consumes from 15 to 50 times less energy than a classical GNSS receivers.
From L1 to multi-frequency
Since the computation of GNSS signals is done remotely, SoftSpot™ for IoT can benefit from multiple frequencies, depending on use cases and clients' needs.
Software-Defined Radio (SDR) Core
SoftSpot™ IoT is improvable remotely without having to change the device. New algorithms are directly updated on the server, no call back is needed.
Up to 16 Mhz sampling rate
The GALAXIE server computes a position in few seconds, making it an almost instantaneous positioning service.
GNSS receiver for IoT designed to be versatile
SoftSpot™ for IoT can either be delivered as simple software running on our customer's hardware, or together with a hardware platform (reference, on PC) or be embedded (RF, Numeric, or both).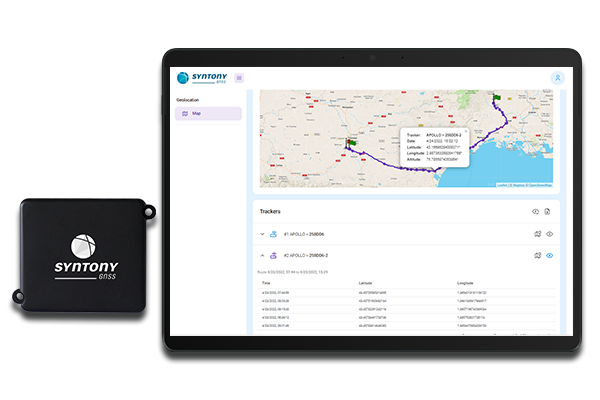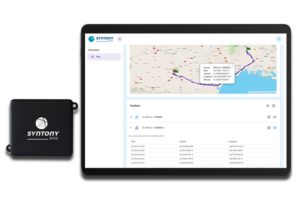 SoftSpot™ IoT is available in an on-the-shelf tracker version, with optimized energy consumption delivering positions accordingly with our client's needs. Equipped on assets to be tracked, SoftSpot™ IoT uses low power telecom networks to send GNSS data to Syntony's server to be computed. The client can access the computed positions via an app and efficiently monitor its fleet.